EXCITING TRAIN TOURS WORLD WIDE
TRAIN TOURS & vacations In the united states
california - nevada - colorado - utah and more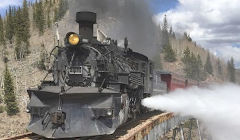 Western States Rail - National
Park Adventure
2024 - Oct 5 - 18 Day
Starting At - $7,095 pp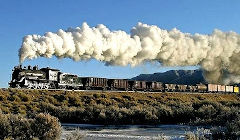 Nevada Northern Railway
Photo Spectacular
This tour has been removed
from our lineup until 2025
Click below for more details
Northern Sky & Dreams
Private Car - Rail Adventure
Westbound
2023 - Oct 14
3 Day Tour
Starting at - $3,995 pp
cancelled
Northern Sky & Dreams
Private Car - Rail Adventure
Eastbound
2023 - Oct 18
3 Day Tour
Starting at - $3,995 pp
cancelled
train tours & vacations in south america
The old patagonian express
Final Chapter
2023 - Nov 3
15 Day Tour
Starting at - $7,595 pp
sure go
European - eastern european train tours & vacations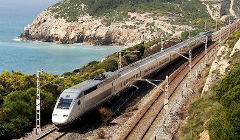 railways & paradores of
galicia spain
2024 - Apr - 5
11 Day Tour
Starting at - $2,595 pp
Springtime in Scotland
2023 - Jun 1
11 Day Tour
Starting at - $2,555 pp
completed
look for this tour in 2024
scotland steam spectacular
2024 - Apr - 28
7 Day Tour
Starting at - $2,295 pp
Italian Vintage
2023 - Apr 29
10 Day Tour
Starting at - $2,375 pp
completed
look for this tour in 2024
Vintage Southern France and
the Pyrenees
2023 - Jun 29
12 Day Tour
Starting at - $3,245 pp
completed
look for this tour in 2024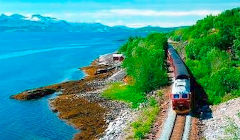 By Train to the Midnight Sun
2023 - Jul 5
15 Day Tour
Starting at - $4,795 pp
completed
look for this tour in 2024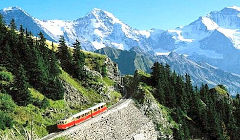 Swiss Rails Spectacular
2024 - jun 10 / jun 24 / jul 8
jul 22 / aug 5 / aug 19 / sep 2
sep 9 / sep 16

12 day tour
Starting at - $8,998 pp
Vintage Slovenia
2023 - Sep 10
13 Day Tour
Starting at - $2,395 pp
sure go
Rail Adventure to Berlin
Dresden and the
Harz Mountains
2023 - Sep 10
11 Day Tour
Starting at - $2,445 pp
sure go
Rail Wonders of Corsica and
Sardinia
2023 - Oct 1
17 Day Tour
Starting at - $3,995 pp
sure go
Gorgeous Georgia and
Armenia
2023 - Jun 10
17 Day Tour
Starting at - $5,295 pp
completed
look for this tour in 2024
train travel - as offered by trains & travel international llc
40 years of offering train tours world-wide
Welcome to the exciting world of railroads and train travel. We have been offering train tours, train trips, train vacations, and luxury private rail car trips since 1983. Here at Trains and Travel International we love traveling by train and will jump at the opportunity to travel by train or take our vacations by rail. Our staff is made up of professional railroaders both active and retired and railfans that have a passion for railroads and the excitement of an upcoming train trip.
In the past 38 years we have now offered train tours worldwide in 47countries. This includes train tours in South America, Russia, Europe, Africa, China, Australia, New Zealand, Asia, Canada, Mexico, Central America and of course the USA. We have chartered over 500 private trains in these countries.
our most sought after types of tours
Some of our most popular types tours are "train trips out west" using the private rail cars. Private railroad cars now allow travelers the option to step back in time and recapture that romantic era of train travel that Amtrak cannot provide. Once upon a time rail barons and wealthy socialites traveled the country on luxurious private railroad cars, dining on fine china and crystal and being pampered by the onboard staff. This form of luxury USA train travel is being offering to everyone at a very reasonable prices.
A small number of folks have purchased and refurbished private rail cars familiar to the first half of the 20th century. This was the golden age of passenger rail travel. These people have spent around a million dollars on each private rail car to bring back this golden age of travel. Passengers can sip on cocktails and nibble on hors d' oeuvres while sinking into deep leather sofas in lounges and vista domes and relax by the rhythm of the train wheels rolling down the track. All meals are prepared fresh onboard and made to order by the onboard gourmet chefs. These private luxury rail cars are coupled onto the rear of scheduled Amtrak passenger trains all over the country. We can run these private rail cars just about every where that Amtrak has trains. This makes up our luxury train tours in the USA. Our first class passengers are separated from the Amtrak passengers by locked doors. We provide our own onboard staff including our chef and make up our own gourmet menus for all meals. All drinks and food are included in the ticket price from the time you step onboard until you detrain. Everything is first class with every detail included. This is USA train tours at it's finest. We invite you to come take a train tour with us and see just how relaxing and fun Train travel can be.
Merchandise
Also be sure and check out our Merchandise page. We sell railroad DVD's, railroad videos, railroad photos, timetables and other railroad collectables.
TOUR CONDITIONS PRICING - PLEASE READ CAREFULLY
Tour Pricing:
All tour prices are subject to change without notice, at any time. All prices based on double room occupancy. Those people that use a credit card for payments a 3% conveyance fee will be added to the tour price. We reserve the right to change tour prices if necessary without prior notice.