collectable merchandise
DVD's - videos - photos - timetables and more
From the vast collection of railroad items from Chris Skow. This collection includes videos, books, photos, hats, tickets, timetables, paper items, and much more. If you like to collect railroad historical items you need to check out this page from time to time as we will continue to add items over time. We are making a number of our tour DVD programs shot during our tours available for your collection. Also we are having the vast collection of sound movie railroad programs shot by Chris Skow going back to the 1960's transferred to DVD for your collection and enjoyment.
shipping and handling charges
Up to $15.00 - $5.95
$15.01 to $25.00 - $7.95
$25.01 to $50.00 - $9.95
$50.01 to $75.00 - $11.95
$75.01 to $100.00 - $14.95
$100.01 to $125.00 - $16.95
$125.01 to $150.00 - $18.95
Over $150.01 - $19.95
dvd railroad programs
THE SURVIVOR
54 minute DVD tax and shipping included $29.95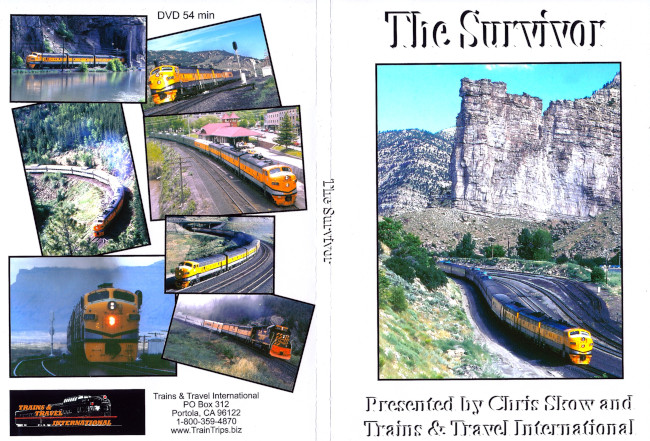 Just released. This new DVD is a 54 minute program covering the operation of Rio Grande's classic "Rio Grande Zephyr" between Denver and Salt Lake City. The Rio Grande Zephyr was born from the ashes of the California Zephyr. When Amtrak took over most of the passenger trains the Denver and Rio Grande Western decided to go it alone and so the Rio Grande Zephyr was born. This video was shot in 1981-1982 and 1983.
THE DENVER & RIO GRANDE WESTERN 315 RIDES AGAIN:
56 minutes $19.95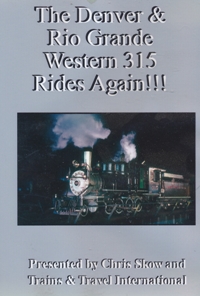 This program touches on the seven-year restoration process, test runs, and features her first revenue trip in 58 years! Trains Unlimited, Tours teamed up with the Durango Rail Historical Society and the Durango and Silverton Narrow Gauge Railroad for the 315's first ever trip to Silverton over the former Silverton Branch of the Denver & Rio Grande Western
LOGGING RAILROADS OF THE PACIFIC NORTHWEST:
50 MINUTES $25.95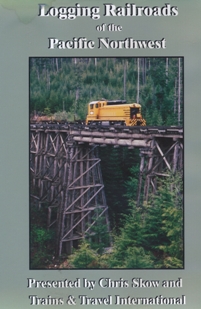 This footage was shot by Chris Skow in 1976 and 1977 in color sound movie film and has been transferred to high quality digital format and computer enhanced by a professional lab. This program covers almost all of the logging railroad lines and mainline log hauling operations in Oregon, Washington, Idaho and British Columbia. Included is private roads such as Simpson Timber Company, ITT Rayonier, Canadian Forest Products, Crown Zellerback, Potlach, Oregon, California & Eastern, Curtis, Milburn & Eastern plus Weyerhauser's Longveiw-Vail-Cascade-Mohawk and Sycan Divisions. Then log hauling common carriers include: BN, Milwaukee, Camas Prairie, Oregon & North western, Esquimalt & Nanaimo, and Tacoma Belt. We then end this program with a wild and fast ride on a track car speeder over an abandoned logging line.
WESTERN PACIFIC-THE FINAL YEARS:
70 MINUTES $29.95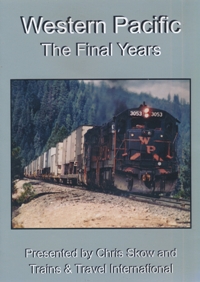 Chris Skow worked as a brakeman and conductor for the Western Pacific Railroad between 1969 and 1995. Union Pacific took over control of the Western Pacific In 1983. This film covers the final years of the Western Pacific between the years of 1969 and 1983. Chris was based out of Portola but he made it a point to work over the entire WP system between the San Francisco Bay area to Salt Lake City and up on the Hiline towards Oregon. He always carried his sound movie equipment with him when he went to work so was able to capture some very unique footage that most railfans could never get. This is a very interesting program from the lens of a working conductor
WORKING THE SPERRY CAR ON THE WESTERN PACIFIC:
65 MINUTES $19.95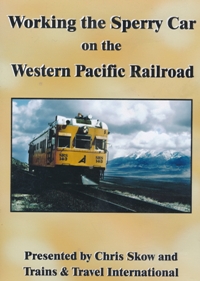 This is more footage Chris Skow shot while on duty as a conductor. In 1980 and 1981 Chris agreed to work the Sperry Rail Detector Car over the entire Western Pacific system. During these two years he worked a total of eight sperry rail testing runs over the system as a conductor pilot with the Sperry crew. Each Sperry rail test took about 30 days to cover the WP system including the Tidewater Southern, Hiline and Reno Branch. This program is packed with railroad action and has many exciting meets with WP freight trains over the system and includes interesting facts about testing the WP. Included in this program is many of the train derailments and wrecks that Chris worked using Western Pacific's Oroville and Elko big hook derricks, plus a rare look at the famous wreck of the Oroville Derrick between Quincy Junction and Keddie and the emergency use of the old Nevada Northern steam derrick on the WP mainline. The testing of the system by the Sperry Car was done to try and find some of the rail defects that caused many of these train wrecks that you will see on this program. Again, as always, Chris carried his camera gear on all of his assignments. Again, Chris always took his sound movie equipment with him and made this very interesting program.
NORTHERN CALIFORNIA EXPLORER:
87 MINUTES $19.95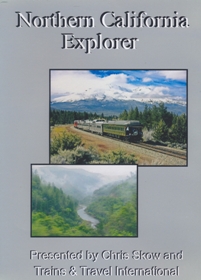 This special excursion train ran June 3-5, 2011 from Emeryville, California to Klamath Falls, Oregon via the Feather River Canyon and the Inside Gateway then returned south via the Shasta Route and Sacramento River Canyon. We take you onboard for this three day excursion.
UNION PACIFIC CENTENNIALS IN THE FEATHER RIVER CANYON
20 minutes $12.95 - NEW ITEM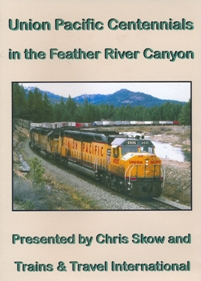 Towards the end of operation of the massive DD 40 UP Centennial 6900 class diesels in the 1980's the last hand full were assigned to the Western Pacific including the Feather River Canyon. Everyone thought these huge and heavy diesels would never operate through the Canyon but UP and WP proved them wrong. Conductor Chris Skow was working the Feather River Canyon during the operation of the 6900's and made a point to photograph and film them both trackside and onboard.
TRAIN WRECKS AND DERAILMENTS ON THE WESTERN PACIFIC
32 MINUTES $19.95 - NEW ITEM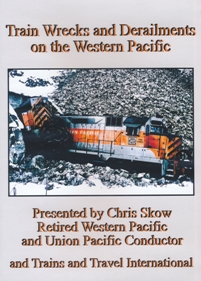 They did not nickname the Western Pacific Railroad "The Wobbly" for nothing. As the final countdown to the Union Pacific takeover drew closer the derailments increased to a point where there was a major train wreck almost weekly. Chris Skow, retired WP conductor was involved in many of these wrecks or was called on the derrick to clean it up. He always carried his camera and photographed all of the wrecks and derailments, be them huge or small.
FEATHER RIVER EXPRESS 2009
54 minutes $15.95 - NEW ITEM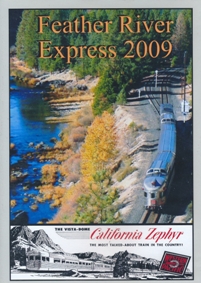 Charter three car California Zephyr train in the Feather River Canyon in celebration of the driving of the Golden Spike on the Spanish Creek Bridge (Keddie Wye Bridge) 100 years ago which opened the Western Pacific Railroad. A special charter train ran from Oakland to Portola and return via Niles Canyon, Altamont Pass former WP via Stockton-Sacramento, Feather River Canyon to Portola and return. This program covers both onboard and trackside.
FEATHER RIVER EXPRESS II 2010 DOMES TO RAILROAD DAYS
76 minutes $15.95 - NEW ITEM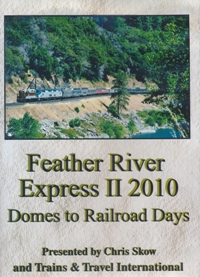 14 Car Charter excursion train Emeryville to Portola running in the Feather River Canyon for the annual Railroad Days Festival in Portola. On the westbound run down the Canyon the GP 20 WP 2001 in silver and orange takes charge of this train!
CLEANING OUT OUR STORE ROOM OF
OUT-OF-DATE DVD's
SNOWFLAKE EXPRESS:
$8.95
Onboard Original California Zephyr Vista Dome cars attached to Amtrak Emeryville to Reno and return in the wintertime.
RAILROAD VHS VIDEOS
OUT OF PRINT PROFESSIONAL RAILROAD VIDEOS
PRODUCED BY BERKSHIRE VIDEOGRAPHY, INC.
MORE THAN 25 YEARS AGO !!
We have been cleaning our storeroom and found several boxes of brand new professional railroad VHS videos made by Berkshire Video- graphy, Inc. taped and produced between 1984 and 1991 by Grant G. Geist. All tapes are in their original dust covers with photo description program inserts, most in color and have never been played. This is a wealth of historical railroad programs that are no longer available. We only have one copy of each video program listed below. Prices below include postage and handling.
BERA INTERLOCKING:
$19.95
Running time 60 minutes. Filmed 1988 & 1989. A modern day look at Berea Tower in Ohio
TWO-NINETY:
$25.95
Running time 90 minutes. Filmed 1990. Coverage of Atlanta & West Point 4-6-2 # 290
THE COMTEMPORARY RAILROADING SERIES VOL 1:
$19.95
Running time 60 Min. Filmed 1990. Berkshire Productions teamed up with Neff Video Productions to produce 3 volume set. Volume 1 covers modern action on Norfolk Southern's rugged Pocahontas Division between Bluefield and Williamson, West Virginia
THE COMTEMPORARY RAILROADING SERIES VOL 2:
$29.95
Running time 90 Min. Filmed 1990 This volume covers the Bessemer & Lake Erie Railroad including the Western Allegheny F units and the Pittsburgh & Conneaut Dock Operations
THE COMTEMPORARY RAILROADING SERIES VOL 2:
$29.95
Running time 90 Min. Filmed 1990 This volume covers the Bessemer & Lake Erie Railroad including the Western Allegheny F units and the Pittsburgh & Conneaut Dock Operations
THE COMTEMPORARY RAILROADING SERIES VOL 3:
$29.95
Running time 90 Min. Filmed 1991. This volume covers the former Western Pacific's Feather River Canyon, now owned by Union Pacific
TOUR CONDITIONS PRICING - PLEASE READ CAREFULLY
Tour Pricing:
All tour prices are subject to change without notice, at any time. All prices based on double room occupancy. Those people that use a credit card for payments a 3% conveyance fee will be added to the tour price. We reserve the right to change tour prices if necessary without prior notice.